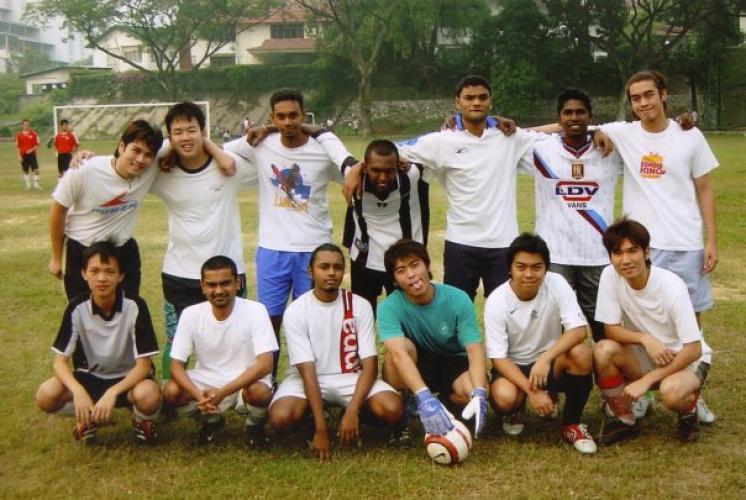 No More Ceteris Paribus Bro!
It is just a few more hours before your birthday strikes the clock. I mentioned earlier on that i would revisit with a better article about you. This is your birthday present bro. Dont strike me with thunder tomorrow.
I will always recall meeting you in a scout camp. A camp meant for hardship as well as torture. Nick Yoong approached me and said "hey you!!, meet markus!, he is the greatest of them all". Yet you showed no signs of arrogance neither did you show any signs of regret for that statement. You were just being you. Accepting flaws in people as well as being humble to people. How do you ever stay that way for so long? You are freaking thin bro, but your heart is fat (huge).
Our lives pretty much went our own individual ways in high school, you being the prefect, and i being the student getting caught by a prefect for coming to school late. You had to catch me when i jumped over the wall to escape the punishment of picking up rubbish. Grrr....
*fast forward*
Then a remarkable incident happened. We were all going for our 40km hike by foot for one scouting activity of which our time limits were 24 hours. Within the last 10 km you were the only still going strong. Most of us were already on our four limbs. Once again grrrr.
When my house was on renovation in 2002, and i needed a place to bum after school, id know where id go; Markus's house with the blue gates. And the funniest thing is, YOU would invite me in to the house and say "Here have a seat". Then you will get me a drink. And then tell me to wait for you for two hours just because you were going for tuition. And you left me alone in your house. Your kindness knew no end. I hope you know that i appreaciate those deeds. I really do. Hahah something just came into my mind. I remember you telling me about how you use to train soccer with your brothers which involved alot of gate wrecking sounds.
You were one of the only few people i knew from school who treated me without judgement despite how awful i can become. The funny thing is, ive never heard anyone saying any negative remark about you as well as who you might have had a crush on in school. You were a target of all the right attractions. Thomas Chew taught me how to pluck the guitar. You taught me how to feel the music. I will always remember how you made me sing my "second voice" out just to explain to me about the music harmonies.
School was over. Hello college/uni life.
We were in the same class for the same subjects; which was an extremely tough degree to get through. We surprisingly became writers for three seperate entities together; HELP Herald, Ceteris Paribus and Malaysian Today. You were always the better writer. We entered football matches together and you were one of the few who played gracefully on the field even when someone tackles you hard. I can remember we had a match with some Sunway boys. I was the goalkeeper and you were well err...playing everywhere just because you can. One guy was so pist at you because he just couldnt get past you in the field. I believed you had a 100% rate of stopping him run into your area. Haha how he cursed you with awful languages and you just smiled and apologized!!! A few of us were saying hey lets roughen that guy up on the field for being a prick to Markus. But noo.... you had to know of our plan and say its ok, leave him be.
When we worked in Malaysian Today, and you were driving that second hand black proton iswara of which you bought it for RM6k you actually taught me to drive with bravery in the streets of Ampang. Mind you i just got my driving permit a few days ago (then). Grrr again. Oh that car was contaminated with all of our sweat after football; probably a hub of football germs. Haaha i would always remember how i shared the experience of your first, second and third car accidents when i was at your passengers seat. And sometimes you would dissapear into the night just to go around the streets of KL for fun. You are unique!! I will also remember the time when you were driving at the speed of 150km on the street just because we had to cover a report in Bukit Jalil at 6pm and another report in Inti College, Negeri Sembilan at 630pm. The car was shaking when we cruised the highway. Bubble gum kids!! You risked your life for them. You had to ask them where they were. You had to put us in the eyes of the syndicate. You had to call the police to save them. Hey, maybe you did save those kids, cause there was an article on the newspapers about the bubble gum kids a few days later.
Every staff in HELP who knew you is missing you. It feels like ive known you for so long but not long enough. You were the only one who did not give up on me about my smoking habits. By the way, im clean of that crap now. And i am truly glad you got to know that i was clean of it before you left. No one really went to college as early as us; 615 am just because we wanted to free parking. haha. We were crazy. You still have one of the fastest time record for Bukit Gasing run. And your fav lecturer, Mr B. is retiring from teaching in a few months from now. Our football team VS the ADP dutch team was epic.
After you left HELP, we never really talked much even though we always saw each other online. Sometimes your monkey display picture would say "hi" when i am taking a dump; and when i reply back; you wil say "im rushing for class now". But i knew u were doing fine there with all the new food you learnt to cook with your roomates over there. I can also remember you and Peter being the wierdos who plays football by yourselves at 7 pm at the field in front of my house. I couldnt resist and joined you guys too. No one plays football in front of my house now. Those were the days when all of us would play football from 2pm to 530 pm on a daily basis.
Your friends are doing well here. Hope your mandarin is improving up there. I am treasuring the book you gave to me in helping me to describe the purpose of life. You knew your purpose. Do me a favour and strike a lightning up Micheal's end. The rest you leave it to me and rest. Assignments bro, its messing my biological clock. A story of you is a story of no end....
Your friend,
Gene Lim